Epirus Traveller in collaboration with Positive Impact Tourism (https://travelthechange.world) organizes a 10 day tour including unique culinary experiences (local cuisine), visits to local feta cheese farms and local wineries, scenery sightseeing, relaxing at the coastline and discovering the unique region of Epirus.
Epirus region is awarded (booking.com Traveller review awards 2023) as the 2nd most welcoming regions worldwide.
Are you ready to cook local recipes and enjoy tradition with your friends?
Are you ready to observe a magnificent and picturesque place, while tasting local recipes and drinking with the locals?
Are you ready to walk at historical or archeological places, while relaxing at the coastline?
ITINERARY FOR THE VISITORS
DAY-1 Arrival day
Today, you will be arriving in the beautiful region of Epirus in Greece and will be picked up by your guide who will bring you to your first accommodation. You will have some time to get acquainted with your surroundings and we will brief you about your Breaking Bread in Epirus Experience
DAY-2, Dodoni history and foods
There is so much history in Greece and we love to tell you about it and give you the opportunity to walk in the footsteps of our ancestors. So today, we will take you to the village of Dodoni that housed the oldest shrine of ancient Greece where gods were worshipped. We will visit the Ancient Theater where sports matches were held every four years in honor of Zeus.
In addition to learning about Greek history, we will provide you with cooking lessons so that you can taste authentic local dishes. Our wonderful chef will teach you how to prepare some very tasty local recipes (pies that are traditional to the area, Greek salads, appetizers etc).
DAY-3, Central Zagori Views and Wines
One cannot come to Epirus and not marvel at the beauty of one's natural surroundings. Since a visit to Central Zagori area with is national park, is an absolute must (Zagori translates to 'behind the mountain'). Today you will enjoy the traditional villages of the area, the stone bridges in the landscape, the stone forest and the breathtaking scenery of Vikos gorge.
In addition to the beautiful views, we will visit one of the local wineries where you will have a chance to watch the fermentation process of the local "tsipouro" (a type of pure wine). Wine growing is a centuries old custom in Greece. Wine was thought of as a gift from the God Dionysos to mankind and there are a lot more Greek wines than the well-known 'Retsina'. In almost all regions in Greece at least one type of grape is grown by the many local wineries that exist today. In addition to learning about the history of this local winery, you will of course have the opportunity to get a taste of their lovely wines.
We will also Lunch will take place at a traditional tavern
DAY-4, Relax and be surprised
The longest sand beach in Europe is our destination for today. But before we can relax with our bare feet in the lovely sand looking out at the Ionian Sea, we will first visit Nikopolis. Nikopolis, which translates as 'the city of victory', was founded by Octavian Caesar after winning the naval battle against Cleopatra and Marc Antony in the Battle of Actium in 31 BC. We will tell you about this history, visit 5 places of interest and we will have a surprise for all of you
Making our way along the coastline, if possible, there will be an opportunity to help to clean the beach of any trash that we come across. Just like anywhere in the world, trash is unfortunately sometimes left at the beach or it washes up on shore. So when we have the chance, let's clean together and enjoy a clean beach after.
DAY-5, Breaking bread with friends
Today, we are going to give back to the local community while at the same time learning to cook some more delicious tasty local dishes. There are many villages in Greece where mostly elderly people live and today, we will visit one of those villages. Of course, we will tell you about the history of the village and we will walk around to connect to the village life.
Breaking bread or enjoying food together is one of the oldest ways of connecting to one another. So our chef will teach you how to cook another great Greek meal, which we will enjoy together with some of the local, mostly elderly people. On the menu today will be local recipes such as Greek stuffed tomatoes and peppers with rice, tzatziki, traditional Greek bean soup, salads, appetizers etc.
After our shared lunch, we will visit a unique worldwide wax effigies museum of Greek history, showing life size representations of over 35 themes inspired by Greek history.
DAY-6, Say cheese in the mountains
If you have never seen feta cheese being made before, today is your day. We will visit a local small farm business to see how they product feta cheese. This particular feta cheese is one that is only meant for the regional market and it is not exported, which makes it extra special and a great way to show our support to local entrepreneurs.
Traveling through Tzoumerka national park, we will come across many picturesque villages, stone bridges and Kipinas monastery that was built in 1212 inside the cliffs. A one of a kind must see that will wow you for sure.
DAY-7, Legends at the beach
Today, we will hike to the historical monument of Zalongo.
This monument is a legend that symbolizes the tragic event of 60 women from Souli and their children on December, 1803. It conveys to the whole world a universal message of sacrifice and freedom. The women were trapped and decided to turn towards the cliff's edge and jump down to their death with their infants and children rather than to submit to the Ottoman troops chasing them.
Later on we'll relax at the Ionian coastline
DAY-8, Serene views and good foods
On this day, we are again going to connect and make friends by enjoying good food together. Our chef will lead you through the preparation of some amazing local dishes. On the menu today are Greek baked meatballs in tomato sauce, green pie, melitzanosalata (eggplant salad) salads, desserts, etc. We will enjoy our fabulous plates together with some of the local elderly.
With great food, should come great views! So today we will bring you to an amazing monastery at the top of a cliff while watching 'Arachthos' valley or visiting a museum of contemporary art.
DAY-9, Trekking day to Vikos Gorge
Vikos Gorge (or Vikos Canyon) is a gorge in the Pindus Mountains and is listed as the world's deepest gorge by the Guinness Book of Records in 1997 (deepest relative to its width). It belongs to the top 20 destinations in Europe!!!
Advanced hikers will have the change to cross all Vikos Gorge with a certified and experienced mountain guide and less advanced hikers will hike an easy trekking path beside Voidomatis River (the coldest river in Europe with crystal clear water).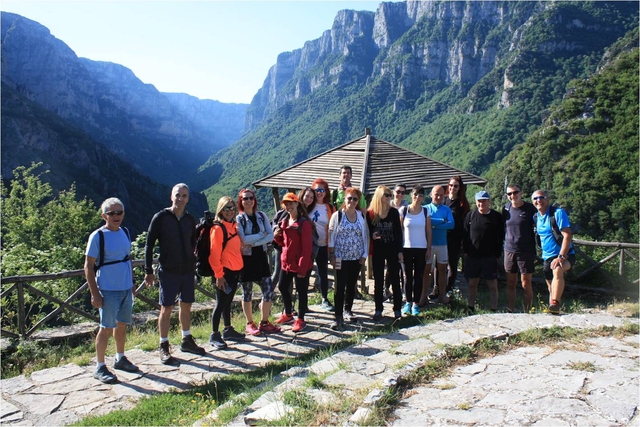 This night we will have dinner and reminisce about all the great sights we have seen and the wonderful things we have done together in the past week.
DAY-10, Departing day
Unfortunately, your epic Breaking Bread in Epirus Experience has come to an end, but we are sure Epirus will have a special place in your hearts forever. Thank you for your wonderful company!
Minimum number of participants: 6
Maximum number of participants: 14
PRICING
Per person: from 1420€
WHAT IS INCLUDED:
All legal taxes
Civil Insurance
All kind of transfers
Accommodation to 3* or 4* hotels (with breakfast), 9 nights
Lunch or dinner
Cooking lessons
Photographic and video material for all days
All Greek recipes printed for future use
WHAT IS NOT INCLUDED:
Entrances to museums
Bank commission fees (3% approximately)
Accommodation to 5* hotels
NOTES:
Cooking lessons will be arranged at a small village with a population of 50 elderly people, in the central square, under the shade of a plane tree and local music.
All visitors need to deposit 300€ in advance immediately after the booking is confirmed by us
The rest of the amount 15 days before their arrival
All payments are only through bank transfer (PayPal is not available)
Epirus Traveller will send all legal receipts to the visitors (bank transfer and state receipt)